PRIME RESERVE Epidynamic Activating Cream
Skin Type All Skin Types

Usage time Morning & Evening

Functionality LIFTING
Quantity / Price50ML / HK$5,500
Keyword Hydration, Anti-aging, absolutea, Elasticity, Wrinkle
Product Features Title
Product Features

Detail Open
PRIME RESERVE Epidynamic Activating Cream
Green Tea Heritage
· AMOREPACIFIC researchers have planted and studied about 10,000 green tea trees for almost 10 years to create AbsoluTea™, the tea tree exclusively for cosmetic ingredients. AbsoluTea™ has high content of Absoluchin228K™, a key ingredient acquired by AMOREPACIFIC researchers after 228,000 analyses.
· Absoluchin228K™ takes care of acquired symptoms of aging for essential protection of skin to reduce the signs of aging for younger-looking skin.
· AP10Bioemulsion, the innovative transmission technology, is exceptionally effective to deliver the active ingredients to the desired target in the skin.
· Softly melts upon contact with skin to wrap around skin with rich texture for the radiance you desire. The soft and firm texture penetrates the skin for youthful skin over time.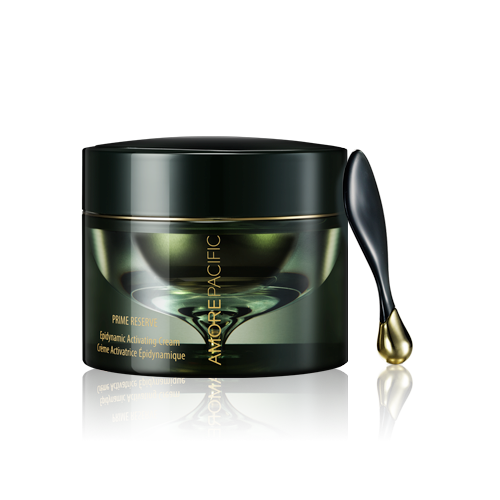 Product Usageandorder Title
Skincare Tips

Detail Open
Skincare Tips
Between eyebrows

For skin between eyebrows, which is prone to wrinkles, massage in an X-shaped motion. (Repeat 10 times)

Cheeks

Massage along the sunken area under the cheeks, starting from the inside and working outward. (Repeat 10 times)

Facial line

Slowly pull the facial line, starting from the tip of the chin and working toward the area under the ears. (Repeat 15 times on each side of the face)
Suggested Dosage
3ml
How to Use
① Use the darker side of spatula to release an appropriate amount and spread over face in the last step of skincare every morning and evening.
② Use the gold side to massage the under-eye area to the tails of eyes, the intranasal depression to the cheekbones, and under the chin.
③ Gently press the face with the palms to sooth and finish.
*This product is rich in active ingredients and should not be stored in high temperature.
Product Recommendation