History
2018

New Stores Opening in Hong Kong

2018.04

-First Global Flagship Store in The Peninsula Hong Kong

-New counter in Harvey Nichols Pacific Place

2016

GLOBALLY EXCLUSIVE in Hong Kong

2016.01

TIME RESPONSE Skin Renewal Intensive Creme.

2016.07

TIME RESPONSE Vintage Wash off Masque.

2016.11

First Global Concept Store in Hong Kong Grand opening at Times Square, Causeway Bay.

2015

2015.03

Tea Gala Dinner AMOREPACIFIC Chairman and CEO Mr. Suh Kyung-Bae and the founder of End Child Sexual Abuse Foundation Ms. Siao Fong Fong celebrated the Grand Launch of AMOREPACIFIC Brand in Hong Kong and the full year charity sales for the signature product TIME RESPONSE Skin Renewal Creme.

2015.06

Launch in Bloomingdale's Department Store in the US.

2014

Grand Opening in Hong Kong

2014.11

Grand Opening at Lane Crawford, Central, ifc mall & Lane Crawford, Tsim Sha Tsui, Canton Road.

2014.11 - 2015.11

Full Year Charity Sale

To continue our steps in corporate social responsibility, AMOREPACIFIC marked an unprecedented milestone in corporation history by donating all proceeds, without deducting cost, from the first year of sale of its signature product, TIME RESPONSE Skin Renewal Creme to charity.

2012

2012.09

Launch in Sephora, Canada. (including Online Shopping Site)

2012.04~2012.06

Sienna Miller selected as a model for ABC Serum.

2012.04

Launch in Nordstrom Department Store in the USA.

2003

2003.09

Launch of AMOREPACIFIC in New York's luxury department store Bergdorf Goodman.

2003.09

Opening of AMOREPACIFIC Beauty Gallery & Spa in Soho, New York.

2002

Advent of AMOREPACIFIC

2002.07

Launch of AMOREPACIFIC in Korea.

2002.03

AMOREPACIFIC Co., Ltd. launched the eponymous luxury brand AMOREPACIFIC to accelerate its foray into the international market.

1983~1992

Completion of Jeju Dosun Green Tea Plant

1992.08

Completion of the Pacific Research Institute in Yongin Land with an investment of KRW 14 billion.

1983.04

Completion of the Jeju Dosun Green Tea Plant Chairman Mr.Suh Sung Hwan built a green tea processing plant on Jeju Island, the ideal location for cultivating organic green tea. After years of trial and error, Chairman Suh succeeded in harvesting the perfect green tea.

1978~1979

Establishment of R&D Center

1979.12

Opening of the Museum of Cosmetics History. The museum sheds light on Korea's cosmetic history. It is the only museum of its kind in the world.

1978.10

Establishment of R&D Center, which was expanded from the former research center launched in 1954.

1954~1964

Opening the first research center in Korea's cosmetic industry

1964.03

Technical cooperation with Japan to sharpen competitive edge.

1959.09

Technical cooperation with France, recorded as Korea's first cosmetics company introduced advanced technology from abroad, which elevated the standard of Korea's cosmetic manufacturing technology.

1954.08

Opening of Korea's first research center dedicated to cosmetics in Huam-dong, Seoul.

1945

1945.09

Foundation of Pacific Chemical Industries, the origin of AMOREPACIFIC Co., Ltd. The company was founded with the mission of contributing to humanity's beauty and health, backed with advanced technology and expertise.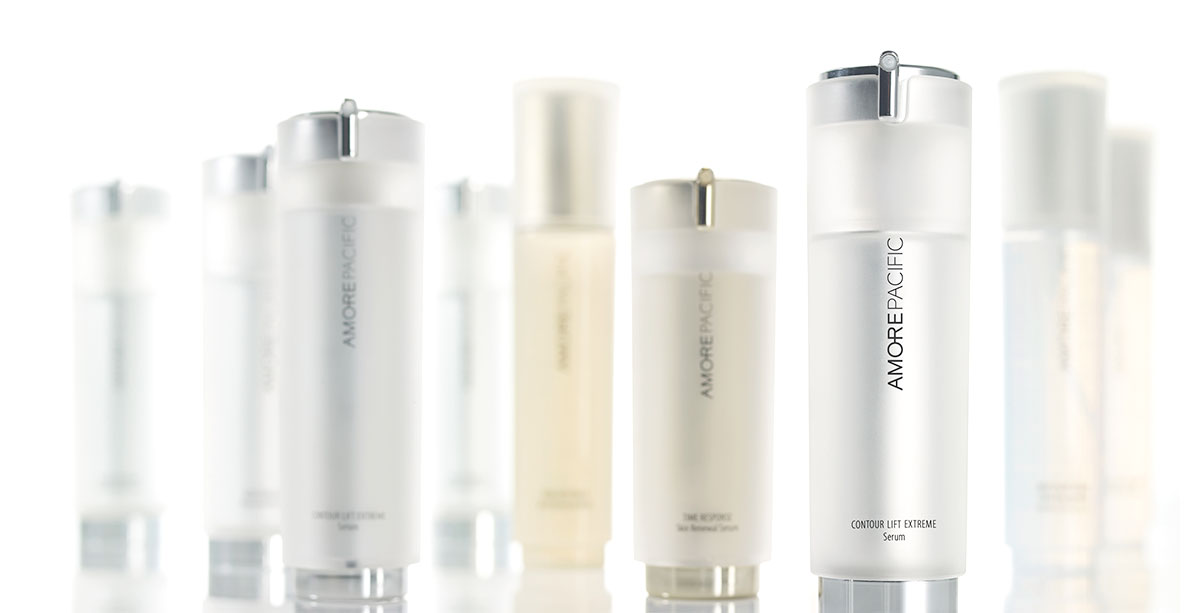 Revitalizing skincare powered by Korea Botanical Mystery.
The Wisdom of Asian Botanicals – The Marvel of Vitality